The future of world nuclear industry Nuclear World Map –Future Situation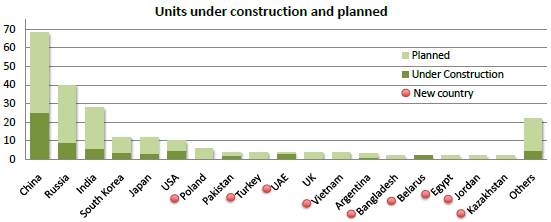 ♦ In China, Russia and India, many units are under construction or planned.
♦ Additionally, new units will be operated at some countries of Asia, Middle East and Eastern Europe for the first time.
The future of world nuclear industry NUA Project
♦ New Unit Assistance (NUA) project
♦ Launched in 2014 to provide support to:
- New entrants –prospective new WANO members
- Existing members with new build projects
- New units approaching start-up
♦ WANO's pre-start up peer review experience has identified areas in which new units need specific support
♦ NUA assistance model will ensure members supported in advance of their pre-startup peer review (PSUR)
>>>Register Now to Download the Presentation and Know More Details!
Agenda at a Glance
Date
AM
PM
May.15,
Day One
Session 1: National Policy and Global Market
Session 2: Regulation, Safety and Nuclear Liabilities
Session 3: Nuclear Partnership and International Collaboration
Session 4: Financing, Risk & Project Management
May.16,
Day Two
Session 5: New Nuclear and Long-Term Operation of NPPs in India
Session 6: Nuclear Fuel Cycle and Waste Disposal
Session 7: Supply Chain Localisation and Skills Development
Session 8: Innovative Advances in Technology, Equipment& Services
>> Click here to review the completed agenda
Reply to the email to see what opportunities are available and explore how we can highlight your organization at 5th India Nuclear Industry Congress on May 15-16, Mumbai, India.
£200 Early Bird Discount before Jan. 15th, 2019, Get your Discount here.
Best Regards
Vivien Miao | AtomToday – Global Nuclear Industry Conference (India, Turkey-MEA, UK, CEE) | SZ&W Group
Email: vivienm@szwgroup.com
Tel: +86 21 5830 0710 ext 8098 | Fax: +86 21 5831 1668 | Mob: +86 185 2140 7816