Postponement Notice
In light of developing circumstances(COVID-19), we regret to announce that it is necessary to Postpone 2nd Offshore MENA Congress 2020 scheduled to take place in Cairo, Egypt, on June 3-4, 2020.

Over the last few months concern has mounted rapidly about the COVID-19 coronavirus. Our decision was made following recent guidance from health officials and in light of the rapid growth in global cases of COVID-19, as well as increasing travel restrictions and other circumstances. Our number one concern is the health and safety of delegates and speakers, our partners, our colleagues and vendors.

The responsible action therefore has to be to postpone 2nd Offshore MENA Congress 2020 until more is known about the virus impact, However, by Postponing rather than cancelling 2nd Offshore MENA Congress 2020, We will be still keeping your conference tickets and keeping all of benefit for our Sponsor & Delegates and We are actively working with our program committee to confirm new dates soon.

We would like to express our sincere gratitude to you all for your support, trust and understanding during this global health crisis. Stay well and safe, make sure you and your loved ones practice self-accountability, as well as all preventive measures outlined by health authorities.

We thank you for your engagement and your commitment to 2nd Offshore MENA Congress 2020 ,We hope to see you on the new dates to be announced soon.

We will keep in touch.

2nd Offshore MENA Congress 2020 Organizing Committee.

Agenda at a Glance
Session 1: Grasp Opportunities in Egypt and MENA: More Bidding Rounds and New Incentives
Session 2: International Experience Sharing and Updates from MENA and Global Key Players
Session 3: Refreshing Seismic Survey Results of Mediterranean & Red Sea
Session 4: Spotlighting on Egypt and MENA Offshore Projects Updates
Session 5: Empowering MENA Offshore Projects: Safety, Efficiency and Cost-effectiveness
Session 6: Showcasing Innovative Technologies and Practices for MENA Offshore Projects
Hot Topics
1. Strategy and Incentives to Build Egypt as Regional Oil and Gas Hub
2.Next Hot Region of Egypt: Bidding Round in Red Sea
3.EGPC/EGAS Offshore Project Updates: Progress and Drilling Plans
4.Egypt Hot Project Focus: Sidri South Project at A Glance
5.Updates on Offshore Discoveries and Explorations in Cyprus EEZ, especially Aphrodite Gas Field
6.A Fresh Look at Eni's Offshore Steps in Mediterranean: New Discoveries and Future Plan
7.Tackling Total's Offshore Strategy in MENA
8.Incentive Policies for Future Offshore Development from Bahrain, Algeria
9.Upcoming Offshore Investment and E&P Opportunity in Israel, Lebanon
10.Refreshing Seismic Survey Results of Mediterranean & Red Sea
11.Collaboration in Khalij Al-Bahrain Basin: Timelines and Drilling Plan
12.Empowering MENA Offshore Projects: Safety, Cyber Risk, Efficiency and Cost-effectiveness and Showcasing Technologies
Country Focus & Hot Project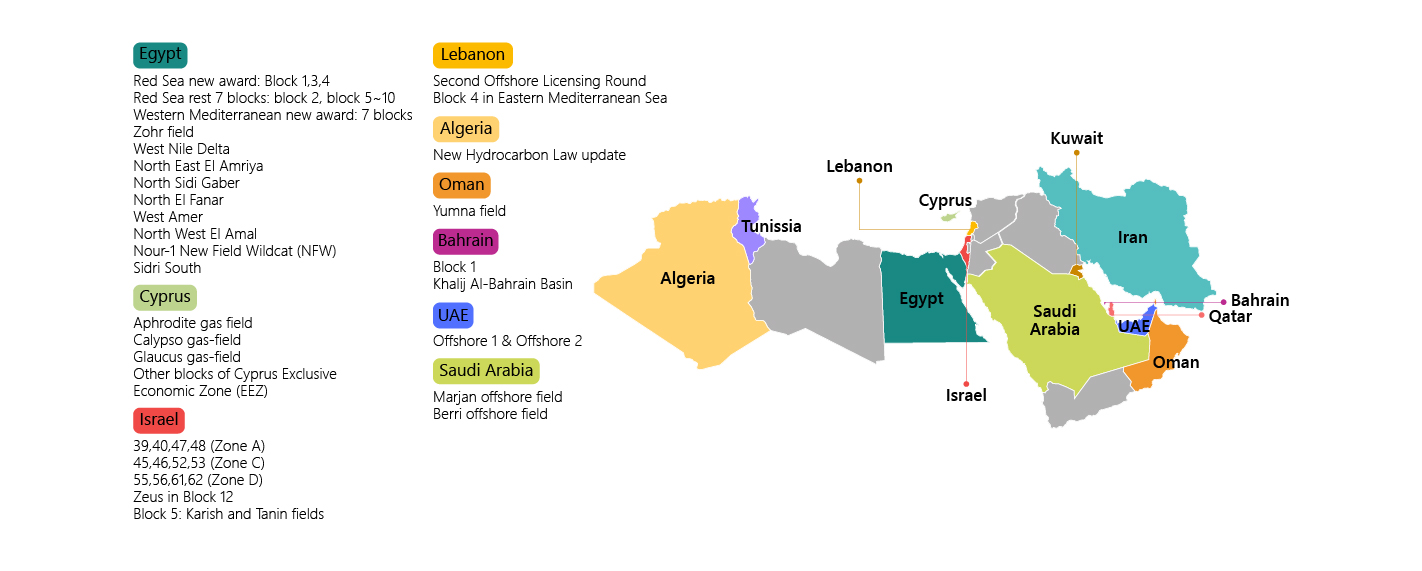 What's New than Last Year and 5 Reasons Why You Cannot Miss us

Who Should Attend

Part of Confirmed Speakers
Part of Inviting Speakers and VIP Guests From

Part of Previous Attendees

Event Site

Media Aartners
---