Africa's urban population will triple in the next 35 years. By 2020 the continent will become the most rapidly urbanizing region of the world. Yet, most of this mushrooming growth won't be found in Africa's major urban hubs. Instead, 70 percent of Africa's urban growth through 2050 is projected for secondary cities.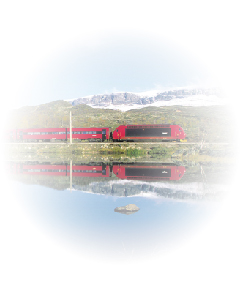 Africa's transportation capacity is currently beholden to road transport: According to the U.N., 80 percent of goods and 90 percent of people are moved via motorized vehicles—leaving many of Africa's sprawling urban hubs stuck in bumper-to-bumper gridlock. And as Africa's cities continue to grow, revamping colonial-era railways is emerging as an attractive option.

Unlike the United States, where major cities are found on both the east and west coasts and the midwest, African countries generally boast a single major city, which is almost exclusively located along the final destination of its railway network. Africa's mid-size cities away from the coast, meanwhile, essentially developed in isolation—from the rail infrastructure and the commercial benefits that came with it. This is why the revitalization of Africa's colonial-era railways is a crucial opportunity for urban planning and development.

According to the United Nations, in 2005, Africa had a total railway network of 3.1 km per 1000 square kilometres. Of the 90 320 kilometre network, 43% belonged to Southern Africa (of which South Africa made up around 60%), and 22% belonged to North Africa. Central, Eastern and Western Africa together had a share of only 35%. Excluding island nations, eleven countries in Sub-Saharan Africa had no railway service in 2010. Burundi, Central African Republic, Chad, Equatorial Guinea, the Gambia, Guinea Bissau, Libya, Rwanda, Sierra Leone, Somalia, and the Niger all have either no railway systems or have abandoned rail service in the country. These are mostly land-locked countries located in central Africa.

Under such railway development status and drivers, Africa countries have pushed out their plans and modified regulations to develop national railways in succession. Amount of major projects are underway and in planning stage, which bring huge investment and partnership opportunities for foreign investors.